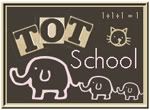 I have seen this on the side of many different blogs, but never got around to looking at it....
UNTIL NOW!!!! WOW
I should have looked Years Ago!!!
If you have tot's you should definitely look.
I am planning on doing tot school posts as part of our blog, each week.
Even if you don't want to do tot school on your blog, there are tons of ideas, links, downloads....